Considerations Before Designing a Website for Your Business
There are several important factors to consider before designing a website for your business. These considerations ensure that your website effectively represents your brand, engages your audience, and serves your business goals. Here are some key points to weigh before embarking on the website design process:
Define Your Objectives: Clearly outline the goals you want to achieve with your website. Whether it's increasing sales, brand awareness, lead generation, or simply providing information, knowing your objectives guides the design process.
Know Your Target Audience: Understand who your target audience is and tailor your website's design, content, and user experience to cater to their preferences and needs.
Determine Core Features: Identify the essential features your website needs to have. This might include contact forms, e-commerce functionality, a blog, image galleries, customer testimonials, and more.
Choose the Right Platform: Decide whether you'll use a website builder, content management system (CMS), or custom development. Consider your technical skills and the scalability of the platform.
Plan Content Strategy: Plan out what content you'll include on your website, such as text, images, videos, and infographics. Quality and engaging content is crucial for user engagement and SEO.
Mobile Responsiveness: Ensure your website design is responsive, meaning it adapts well to various screen sizes and devices. A large portion of web traffic comes from mobile users.
User Experience (UX) and User Interface (UI): Craft a user-friendly interface that provides an intuitive and enjoyable experience for visitors. Navigation, layout, and usability are key.
Branding and Visual Identity: Incorporate your brand's colors, fonts, and logo consistently across the website to maintain a cohesive visual identity.
Page Loading Speed: Optimize your website's loading speed to prevent visitors from leaving due to slow loading times. Fast-loading websites contribute to a better user experience and SEO rankings.
SEO Considerations: Implement on-page SEO practices during the design phase. This includes optimizing titles, meta descriptions, headers, images, and ensuring a clean URL structure.
Security Measures: Prioritize security by using HTTPS, incorporating security plugins, and keeping software and plugins up to date to prevent vulnerabilities.
Integration with Other Tools: Consider integrating your website with tools such as analytics platforms, email marketing software, and social media for tracking and audience engagement.
Test Across Browsers and Devices: Ensure your website looks and functions well across different web browsers and devices, including desktops, laptops, tablets, and smartphones.
Legal and Privacy Compliance: Ensure your website complies with legal requirements such as GDPR regulations, privacy policies, terms of use, and accessibility standards.
Scalability: Plan for the future by creating a design that can easily accommodate future updates, content additions, and changes to your business needs.
Budget and Resources: Establish a realistic budget for your website design project and allocate resources accordingly for design, development, content creation, and ongoing maintenance.
By carefully considering these factors, you'll be well-prepared to create a website that effectively represents your business, meets your objectives, and provides a positive user experience for your target audience.
What is a professional website?
What is a professional website? What standards does a professional website need? These are questions that seem to be nothing new, but they are really important for a designer who is starting a web design career or for a client who is in need of a website.
And most of all, it is really necessary for a business that wants to build a professional website design brand. Operating for many years in the field of designing, developing and promoting websites in many forms through the Internet environment.
Viet SEO not only gathers experiences to bring customers quality products and services, but also understands the needs, preferences as well as psychology of customers and our partners are providing. . From those valuable experiences, our company has drawn the following standards for a professional website.
The standards of a professional website:
That website must ensure regular operation time, minimizing interruption time.
The website must have a fast loading speed. According to general statistics, users are not patient enough for more than 10 seconds when entering a website without seeing any elements or any information on the website appear.
The website must have an eye-catching interface, images, and colors that attract users to access.
The website must have a layout that presents sufficient and reasonable information, not too cumbersome and redundant, in accordance with the user needs that the business is aiming for.
That website must have high interaction, keep users longer on your website to learn information. From there, it also helps your website increase the conversion rate from a web visitor to your customer.
The information about products, services, business introduction needs to be complete and clear, so that visitors can find out information about you easily.
The functions of the website must be easy to use, focus on the necessary needs and avoid cumbersome procedures, not suitable for fastidious and impatient users.
And a final general criterion is that the website must bring business benefits to the business, is an effective support tool to help businesses increase sales and save time, effort and costs.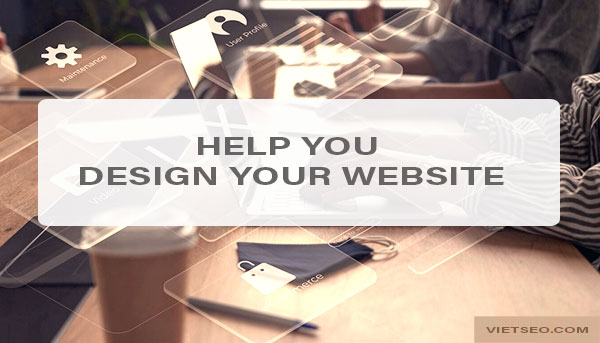 How to evaluate the quality of a professional website?
A website with a beautiful interface also comes with quality. What is the quality here? Not just using the latest technology, the best hosting (server) is quality, but must meet the following basic standards:
1. No error
To say that there are no errors is not entirely true, because everything has flaws, nothing is perfect. But what we mean here is that the error is not easy to see or it is just a small error that is not worth worrying about and must ensure that the website is still operating normally.
2. Well optimized
Website needs to be optimized for speed and optimized for SEO. Regarding the speed of fast or slow access, it may be due to each person's Internet or hosting (server),...but the website should be optimized for images, how to load pages to achieve maximum speed, as fast as possible. . Regarding SEO criteria, it is necessary to optimize onpage for content, keywords, ... so that search engines can find them easily.
3. Good security
What do you think when the website sometimes has an attacker that makes customers inaccessible or loses data? It slows down your development. Therefore, website data needs to be well secured to prevent hackers from attacking and destroying.
4. Easy Administration
Owning a website, you have to regularly work with it, post news, products, useful content, .... Therefore, the admin page must be built in a friendly, simple and easy way. Easy to use to make web administration better and more convenient.
5. Quality Content
Website must have quality content, rich, full of necessary information for users to refer. You must always think: Give what the customer needs, not what you have. If a website has sketchy content, no investment will mean that the website does not have high traffic.
Above are just the basic standards of a professional website that we want to share with you. There are still many other standards depending on the usage needs and website development strategy of each business.
In addition, there are many other details that you need to pay attention to as a basis for choosing a suitable website partner. You need to understand the importance and benefits of a website. Do not be too hasty, but take the time to choose a partner carefully, who can cooperate and bring long-term benefits to your business.
In this article, we have given the shares that we think are necessary to help designers create quality websites for customers and help businesses own a website. Professional website to assert yourself in the marketplace.
Finally, Viet SEO Company always hopes that in the future, Vietnamese websites will have reasonable development strategies to compare with major websites in the world and Vietnam's IT industry will develop strongly. furthermore. Thank you for reading the article!